On Saturday, March 15, we flung open wide the doors to the shop to anyone and everyone. We wanted to share with our friends, old and new, what we're doing and how we do it.
Geri baked cookies and made delicious stew (if you ask her, she'll give you her secret ingredients). Derek made a spicy vegetarian stew and picked up the beverages at the local drive-thru. Your modest blog writer cleaned up the shop and made some shelves to organize our shop from its normal chaos to organized chaos.
The letterpress community in Rochester is a tight-knit bunch, and many friends came by. The nexus is, of course, Rochester's Printing & Book Arts Center at the Genesee Center for the Arts and Education. Many have gotten their fingers inky there over the years. What fun it was to hang out!
Adding to the fun was meeting new friends who we've only only known through Instagram, Facebook, and/or email. Analog meetings can never compare with digital ones. For instance, we're glad finally to have met Jessie Reich (aka Punky Press) and grateful for her making the trek from Auburn, near Syracuse. Rich Kegler of P22 Type Foundry is a long-time friend of VWT, and we're appreciative of him visiting us from Buffalo. Amelia Hugill-Fontanel, assistant curator at the Cary Graphic Arts Collection at RIT, took time out of her weekend to visit with us as well. 
Virgin Wood Type's first intern, Anita Byers, is a member of RIT's Gamma Epsilon Tau - Zeta Chapter, which is a coed fraternity for students in graphic arts. She brought several members to learn more about what she does during her internship here. Anita is quite committed to wood type. She also volunteers at RIT's Cary Graphic Arts Collection in Ms. Hugill-Fontanel's "Adopt a Font" program. (continued below)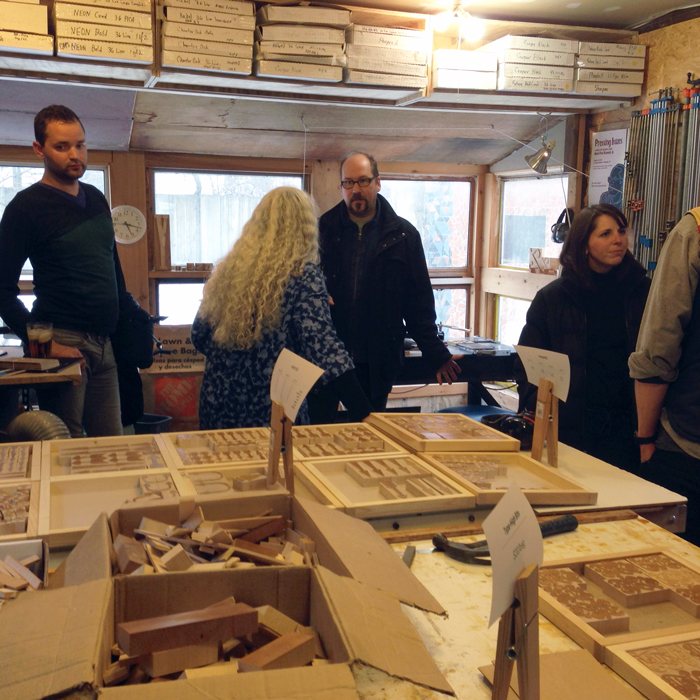 Making wood type is often more art than science, and our Hell Box proves it. Sometimes the maple doesn't take kindly to the cutter, fights back, and causes a ragged edge to the type. Sometimes the person at the helm of the pantograph accidentally nicks a perfectly cut stem of a capital H. Sometimes the hand trimming tool doesn't cooperate with the skilled operator of the hand trimmer and takes too much out of an Old Style No. 6 capital M. Any and all of these can cause a letter to find its way to the Hell Box.
These outcast letters have never felt so much love as they did on Saturday when the Hell Box was poured over and over by many a visitor. We hope to see the letterpress fruits made from our seconds. (continued below)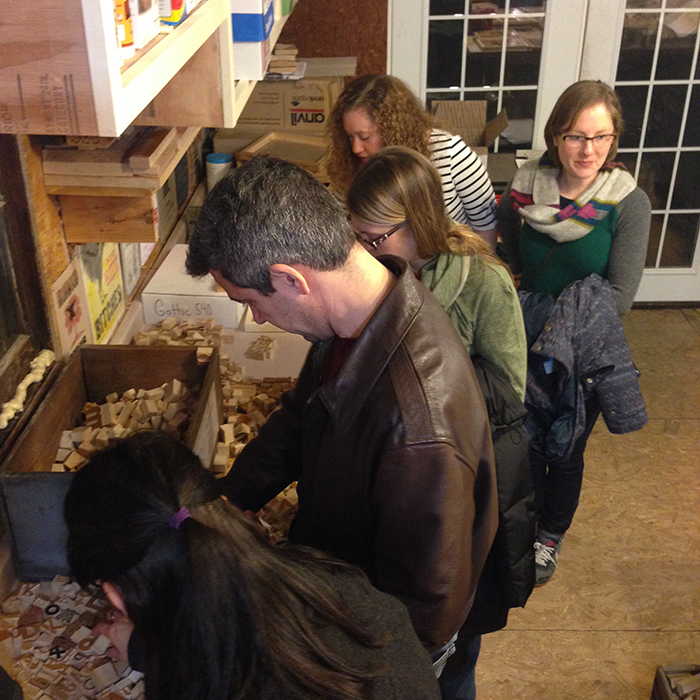 In addition to seconds, we also had bits & pieces from processing end-grain maple into wood type. Some letterpress artists use the bits & pieces to create designs, patterns, and the like. Geri brought out a print of hers to demonstrate what she created using bits & pieces (below).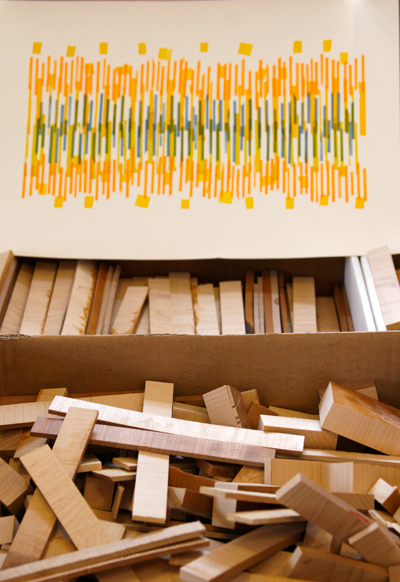 We launched what we're calling the perfect dingbat. With its rectangular strokes surrounding a square, the perfect dingbat will add to any letterpress print. Throughout the day, we made some on the ol' pantograph for our guests to take home.